Located at the foot of Morocco's Atlas Mountains, Marrakech is a chaotic and dazzling city. It is one of the most culturally and sensationally vibrant regions in the entire Morocco. There is nothing like experiencing a Morocco holiday which will soon be realised as one explores its winding streets, which are full of street performers, donkeys, musicians, and market stalls. Just being in this place and indulging in its heady atmosphere is a unique experience in itself.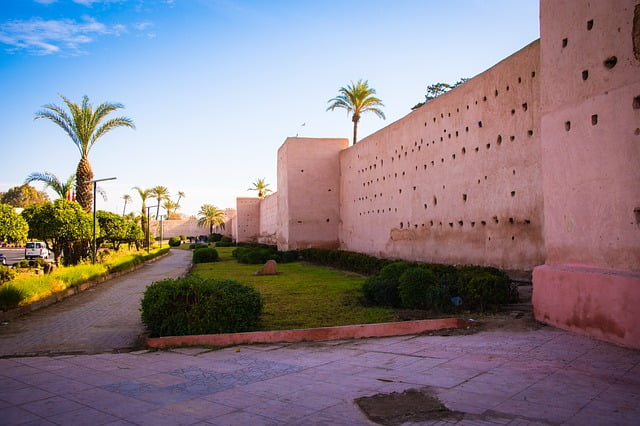 However, a visit in Marrakech is incomplete without checking out its beautiful and fascinating heritage sites and historical edifices. Below is a list of the top must-see attractions in Marrakech, Morocco.
1. Djemma el Fna Market
This chaotic market square is Marrakech's cultural heart. A visit to this market is like taking one step back in time. It is a great place to seize bargains from any of the stalls during day time. During night time, traders from all over the city arrive to bring the market back to life as they sell various items and wares. This is where musicians, storyteller, healers, snake charmers, fakirs, and a wide variety of fantastic food stall choices that serve the famous Moroccan cuisine can be found.
2. The Souks
Influenced by the North African markets, the Souks are covered market stalls. In the city's Old Medina Quarter, the streets are lined with souks, which sell everything from souvenirs to household goods and from silk to livestock. Those who are expert in making a haggle will surely bag a bargain.
3. Majorelle Gardens
Built by French artists Louis and Jacques Majorelle in the 1920s, Majorelle Gardens is a beautiful ornamental garden, which offers an unwinding picturesque setting and overwhelming plethora of scents, shapes, and colours. Also, this garden is a home to the Islamic Art Museum.
4. The Saadian Tombs
Built in the 16th century by Sultan Ahmed al-Mansour, these maze-like tombs have been preserved for future generations. They are surrounded by a tranquil garden in the city's Medina Quarter.
5. The Ramparts of Marrakech
Built in the 13th century, the old Medina walls feature highly stylised gates, which provide excellent views over the surrounding mountains and the city.
6. Palais Dar Si Said
A luxurious palace, Palais Dar Si Said is open for public view. The place allows visitors to wander around and explore the home of Morocco's early rulers. Also, it is a home to the Moroccan Arts Museum, which exhibits jewelleries, ceremonial artefacts, and costumes of the historic dynasties.
7. Ali ben Youssef Medersa & Mosque
This is a remarkably well-preserved 16th century-old mosque and school. It is also a home to 900 Islam students.
8. The Koutoubia
Marrakech's tallest landmark, the Koutoubia stands at seventy metres in height and can be seen in almost every direction even in miles away. It is also one of the most famous minarets in Morocco.
9. El Bahia Palace
This palace is a portrait of a classic Moroccan architecture. It features breath-taking architectural designs, which come with ornate engravings and arches. This place is still being used by the royal family.
10. Ouzoud Falls
Just outside the city lays the spectacular Ouzoud Falls. The hundred metres water cascade on the mountain side and the dramatic rocky mountain formations have earned the place a name called the "Gateway to the Abyss."