Turkey has become one of the hottest vacation spots boasting a mix of historical sites as well as gorgeous beaches and islands. The country truly has something for everyone! Below are 5 of the best beaches where you can spend your nice holiday in Turkey.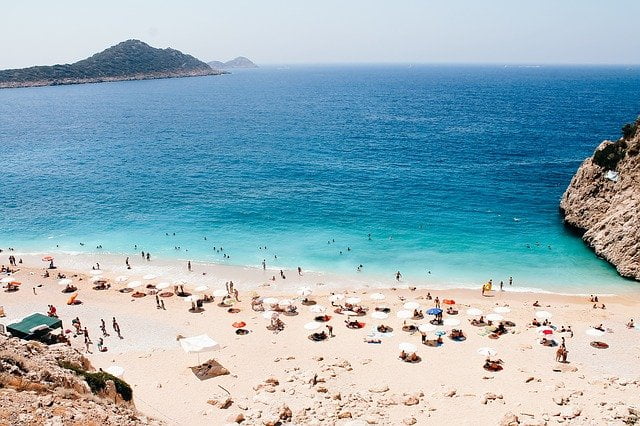 1. Blue Lagoon Beach
Also known as Oludeniz Beach, this beautiful oasis is home to crystal clear waters and actually has several different beach areas to choose from. Most visit this area between May and October and enjoy the small shops and various water activities that the beaches have to offer.
2. Cleopatra Beach
This beach is known for its pristine, fine white sand that is only found at this location. Cleopatra beach is one of the best for swimming in Turkey, and it is a completely enclosed beach so you will be sure to experience a very relaxing getaway.
3. Bitez Beach
Nestled in the port city of Bodrum, Bitez beach has become one of the favorites of Turkey. Its location makes it easy to participate in a number of activities while there, including historical visits, great restaurants, water activities, or just beach lounging. It also has number of smaller beaches connected to it that are certainly worth a visit.
4. Calis Beach
Some of the best beach restaurants are found here at Calis. It also has a quaint feel to it which provides for an intimate and friendly environment. Calis also has a great waterpark that attracts a lot of families and guest of all ages.
5. Kaputas Beach
Many label the waters of Kaputas Beach as the bluest and most beautiful in all of Turkey. A true hidden gem found on the coast of Kas, Kaputas offers affordable beach gear such as parasols and umbrellas to give you the best beach experience possible.
No matter which beach in Turkey you choose, you are guaranteed to have a relaxing experience with some of the most picturesque and scenic beach views in the world. The people are friendly, the sand is immaculate, and the water is crystal blue, and one trip to a Turkish beach will make you rethink ever vacationing elsewhere.