For history buffs and/or modern day enthusiasts, few cities cities compare to Vienna.  One can slip into a time warp by marvelling at the Imperial palaces and suddenly be jolted back to reality by the dynamic urban scenes.  Food and wine can be seen on display around just about every corner.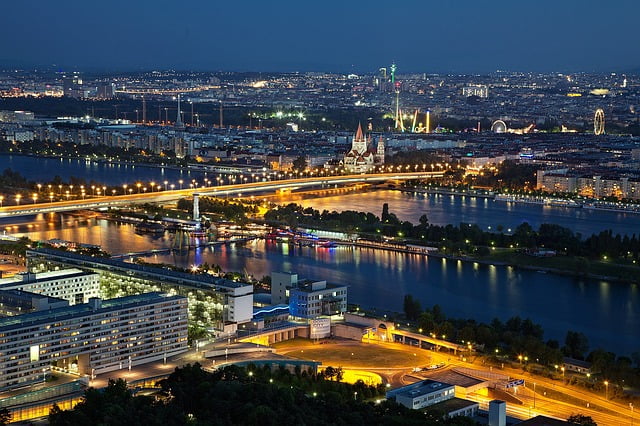 1)  Visit the Vienna State Opera House
 Taking in the phenomenal Vienna State Opera House can be done one of two ways.  Firstly, one can join an organized tour for views inside the Opera along with a visit to the main hall.  Secondly, one can consider attending an evening performance that takes place from September to June.  Both come highly recommend and will surely leave you smiling.
2)  Wander about Tiergarten Schonbrunner Zoo
Most major European cities have a zoo.  What's so special about this one?  Well, for starters it is the oldest existing zoo in the world!  Moreover, it was voted Europe's best zoo in both 2009 and 2010.  It's well worth checking out.
3)  Check out the Imperial Palace (Hofburg)
This wonderful old Imperial Palace today is home to three museums.  Centuries ago it was literally the centre stage of the Habsburg Empire.  One can marvel at the original furnishings, decorations and various utensils.
4)  Marvel at St. Peter's Church (Peterskirche)
Few churches are as impressive at St. Peter's Church when making comparisons to others in Austria (or even the rest of Europe).  Distinctly characterized by its copper clad dome it offers wonderful opportunities to snap memorable photos.  It's also conveniently located nearby Hofburg.
 5)  Stroll down the Central Cemetery (Zentralfriedhof)
Not to be rivalled by many others, Zentralfriedhof (Central Cemetery) is Europe's second largest laying rest to over 2.5 million people –  including such distinguished names as Strauss, Brahms, Schubert and Beethoven.  It's located roughly 9 kilometres from the city centre.