As a popular song has informed the world, a single night in Bangkok can give visitors an experience of a lifetime. This city is quickly developing, and people who go there can see all of the history that the capital of Thailand has to offer along with experiencing all of the modern amenities that they would expect back home. In addition, Bangkok flight tickets on low cost airlines can be very reasonably priced to make a holiday in Bangkok even more budget friendly.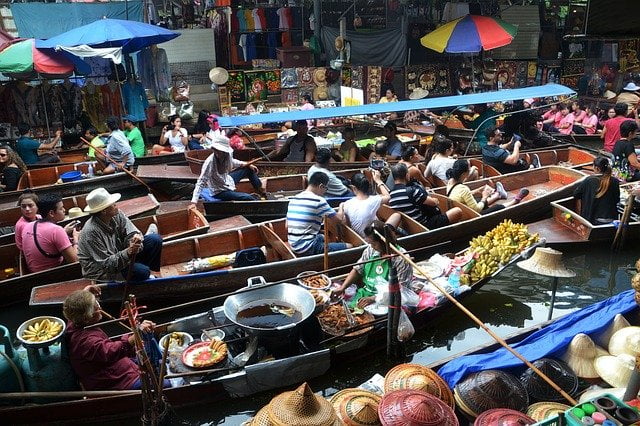 There is a myriad of sites to see in Bangkok, but people can get all of the highlights even if they only have 48 hours to see everything they can.
Day One
No trip to Bangkok would be complete without a stop at the Grand Palace. This ancient complex is home to a gigantic reclining Buddha that was built to be so large that people cannot see the whole statue at one glance. The temples that dot the grounds around the Grand Palace are spectacular, but visitors should remember to dress appropriately.
The Grand Palace is conveniently located a short walk away from Khao San Road, and this is the perfect place to stop for lunch. While this neighborhood has been a haven for backpackers for years, it has recently gone much more upscale. Tourists on any kind of budget will be able to find something interesting on Khao San Road. They could dine on cheap but authentic Thai food or go for some more international fare from one of the many great restaurants nearby. There are also a number of temples in the area that visitors are sure to enjoy. This could make for a lovely afternoon excursion.
Yaorawat is a great choice for dinner. This is Bangkok's Chinatown, and the bustling neighborhood is teeming with great restaurants and small shops that sell almost anything imaginable. Lit up in neon at night, a stroll around Yaorawat is a great way to spend an evening before returning to a hotel.
Day Two
Chatuchak Market is the place to go for an authentic shopping experience in Bangkok, and it is best to go in the morning when all of the vendors have their stalls open. Located in the north of the city, visitors can take the Skytrain to the last stop and catch a taxi for the short ride to the market. Cheap goods abound at Chatuchak Market, but be sure to use your haggling skills for a good deal.
After a morning at the market, visitors could head to the Sukhumvit area. This is home to the majority of Bangkok's expatriate population, and it is very easy to get around in English. The different sois or side streets cater to people from different parts of the world, and it is never hard to find a restaurant that will suit anyone's taste. There is a market set up along the main road in the evening, and visitors can enjoy quality nightlife at reasonable prices on Soi 11.
The Big Mango is a budget-friendly destination that offers visitors an explosion of sights, sounds, tastes and history. It is a city of contrasts and can deliver some of the best value for the amount of money spent among any major city in the world. Armed with a little bit of knowledge, a weekend is all that people need to take in all of the major attractions that the city has to offer. In addition, the well-developed tourist infrastructure makes Bangkok a great introduction to a beautiful and exciting part of the world.