Torremolinos – I'll pause whilst you let the picture form in your mind. What do you see? Well, I see sun, sand and plenty of fun. This southern Spanish resort, deep in the heart of the popular Costa Del Sol has been a holiday favourite for decades, and shows no signs of slowing down. With the sheer number of package deals heading over to this lively resort, it's hardly surprising.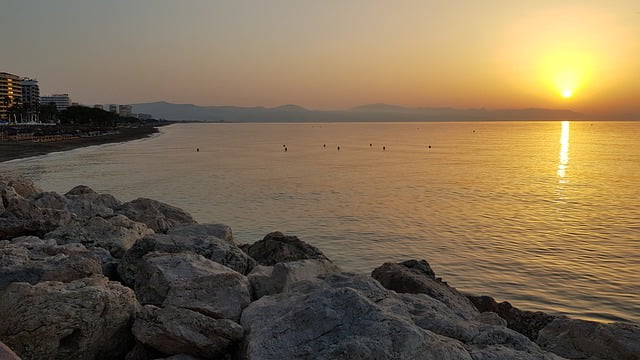 For a family holiday on a budget, Torremolinos is a fantastic choice, and another great idea to add-on something special, and combat tiredness, is a night's stay at the airport. No, I'm not talking sleeping on the chairs, I'm talking a comfortable bed, a nice meal, and a refreshing shower before heading the short distance to the terminal. Sound good?
Once you arrive at Malaga Airport, your transfer to resort is minimal, and you'll be in the sun and on the beach before you know it. The beaches in Torremolinos are clean and wide, with all the facilities you'll need for a day on the beach, including plentiful water-sports. The main beaches, including bustling Playa de Bajondillo, do get very crowded during peak season, so head there early to get the best spot.
Away from the beach, it's worth hiring a car and getting out and exploring. I did this the last time I headed to Torremolinos, and the surrounding area, or Andalucia, is beautiful, so well worth a little adventure. Alternatively, there is a tourist train that runs along the coastline, and the kids will love it too.
This being the Costa Del Sol, you can expect lively night-life, with karaoke, pubs, bingo and cabaret, but there is also more sedate, chilled-out entertainment on offer, especially in the Puerto Banus area. Wherever you choose to spend your evening, I'd recommend trying some delicious local cuisine, with seafood fantastic. Nobody will go hungry however, as British tourists are well catered for with dishes from home.
One suggestion to help your dinner digest is a gentle walk along the promenade, which runs along the seafront. Perfect for a little people watching, a little gentle exercise, or purely for the scenery, it runs all the way down to Benalmadena, so you can wander as far as you please.
As you can see, Torremolinos is everything it promises to be, with variation and many chances to relax and make family memories. Start your holiday in the most rested and calm way possible, with my idea of a night in an airport hotel.
In Torremolinos, entertainment comes as standard, sun is expected, and fun times are guaranteed.