Despite what the gonzo American journalist Hunter S. Thompson once said, there is neither fear nor loathing in Las Vegas. On the other hand, there is plenty of seizure-inducing neon, plastic-fantastic kitsch and more theme park style hotels than at the Walt Disney World resort.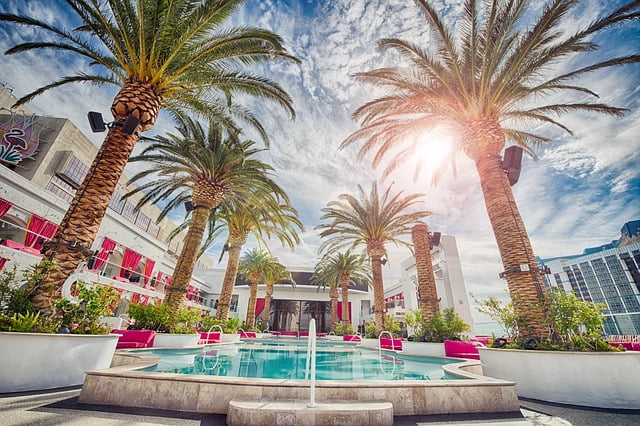 When you book a long weekend of gambling, the idea is to figure out what type of Vegas you want to experience in all this Vegas-ness. Do you want a classic hotel accommodation like The Tropicana or Circus Circus, or do you want to up the ante and go full-tilt over-the-top by booking a room at The Luxor or The Bellagio? Between the Strip and Downtown, there are countless hotels in Las Vegas, and each one has its own claim to fame.
First time visitors to Vegas have a tendency to stay somewhere in the middle of the Strip; this keeps them in close proximity to all the hedonistic action. Here are 3 hotels you will find on the Vegas Strip. In fact, you will not just find them; you will not be able to miss them.
1. What can you really say about a hotel that has a 30-story onyx-hued pyramid? Dorothy, we are not in Egypt anymore. The Luxor is a kitsch-worshipping paradise of Art Deco stylings, Animatronic camels and Egyptian replications. The hotel boasts reproductions of Cleopatra' Needle as well as the Sphinx, and there is a 315,000-watt light blasting into the heavens from atop the pyramid. Oh, yeah, there are rooms too, and they are not designed with your typical cookie-cutter decor, but with unique and charming touches.
2. The Bellagio is a 1.6 billion dollar luxury resort. It is less like a theme park than several of the hotels in Vegas, and it is famous for its stunning outdoor lake and the choreographed water fountain ballet that takes place there throughout the day. Despite the fact the hotel is aiming for a peaceful, Italian village feel, this is one of the largest, grandest and most state-of-the art hotels in Vegas. It has the type of European sophistication that you would find in a hotel in Monaco. Highlights include a marble lobby, glass sculptures and a conservatory with a 100-year old fountain. The hotel also has some of the best restaurants in Vegas.
3. The Mirage was one of the first mega-luxury hotels in Las Vegas, and it remains one of the best. Built in 1989, The Mirage is known for its cascading waterfalls, tropical foliage and its centrepiece, a towering volcano that spews lava every fifteen minutes. Inside, there is a 20,000-gallon aquarium and a domed rainforest. The rooms have a tropical decor scheme as well.