The island of Madeira has been blessed with beautiful countryside, stunning mountains, pretty villages and picturesque beaches, meaning you are bound to find plenty of amazing places to fill up your holiday photo album. And if that is not enough then there is even a small island 27 miles off the coast to add to the equation.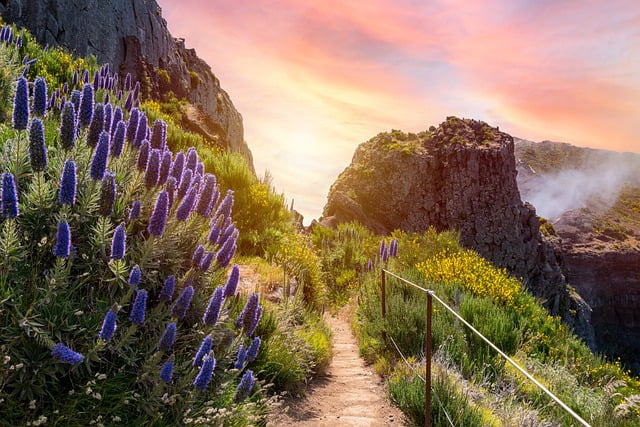 Here are some of the locations that we think you should head to in Madeira to get the best holiday snaps and soak up the natural beauty.
Eira do Serrado
This mirador or viewpoint located in the hills to the north of Madeira's capital Funchal offers fantastic views across the surrounding landscape. From here you are enveloped by stunning mountains and able to look down into Nun's Valley.
Named after the religious folk who took refuge in the countryside's natural depression during the 16th century, this area is now home to a remote little village. Above it you can look down and see the white walls and terracotta roofs as if they were dolls' houses.
The present inhabitants are no longer fleeing from pirates, but live on the land and cultivate the chestnut and cherry tress that thrive in Madeira's climate. Be sure to try some of the local delicacies made from these ingredients, such as cakes, puddings and liqueurs.
Camara de Lobos
A visit to this little fishing village is a must for those looking for the most beautiful places on the island as it oozes atmosphere and charm. The whitewashed houses form a contrast with the pebbly beach, complete with colourful fishing boats pulled up on the shore.
The village was named after the monk seals that come into the harbour and can still be seen to this day bobbing about and playing together.
Pop into one of the pretty buildings that now house cafes, shops and bars to try the local poncha. Although available all over Madeira, this drink made from distilled cane juice, honey, sugar and lemon rind has different twists on it wherever you are.
Cabo Girao
Standing at the top of the highest cliff in Europe and looking back at Funchal is a dramatic view, which is perfectly contrasted by the little plots of vines and vegetables that the locals grow close by. From here you can also see Camara de Lobos from a distance and other notable sights you may have visited on your trip.
Porto Santo
If you have exhausted the main island of Madeira then head to Porto Santo, 27 miles off the coast and almost another world. This island was first landed upon in 1418 and is well known for the huge expanse of beach that stretches for more than five and a half miles down one side.
Unlike the lush green vegetation that can be seen on Madeira, Porto Santo has barely anything growing on it and a milder climate than that of its neighbour. Its relative remoteness means that many traditions have lived on despite a slight increase in the number of tourist visitors.
The discovery of Porto Santo was extremely important for expeditions that followed to the west coast of Africa, the East Indies and eventually Japan. Christopher Columbus married Filipa Moniz Perestrelo on the island and the couple lived there for a period.