Next time you're feeling slightly down in the dumps and in need of a tonic, try taking a break in sunny Barcelona to recharge your batteries and look at things from a refreshing new angle. This is a dynamic city where you feel rushed along by the torrent of life in Andalucía, awash with bright colours, sights and sounds that will act like a shot in the arm. Compare different cheap car rental options before you set off to take advantage of some fabulous deals and be able to explore this great city and its surrounding region at your own pace.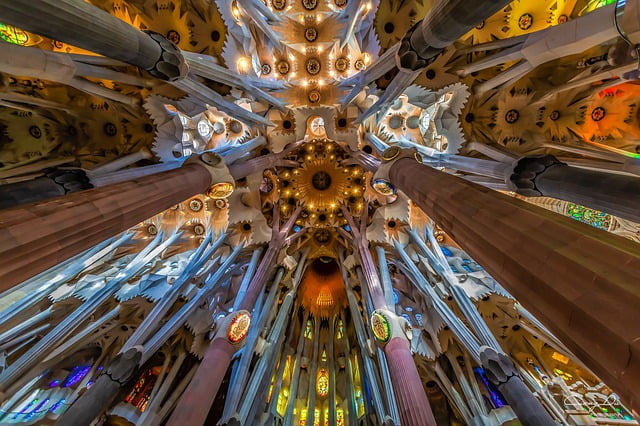 To get the facial muscles revived and set into the standard smiling position again, make the delightfully bizarre cathedral of Sagrada Familia your first point of call. This is the Spanish architect Antoni Gaudi's masterpiece, and although its design and construction were begun more than a century ago it will probably take another decade to complete. Gaudi's was an original and innovative plan for this life's work, and at his death in 1926 only a few parts of it had actually been completed, including the apse, crypt, facade and just one of the towers. Most of his plans were burnt during the Spanish Civil War and it has been something of a long term project for leading modern designers and architects to reconstruct his intentions and finish the thing off.
When it is finally completed, this stunning and bizarrely attractive cathedral will have no less than 18 towers rather than the more conventional two, and over 13,000 people will be able to pack into it for special occasions. On the towers on each of its three facades there will be four statues representing a total of the twelve apostles, with another four towers for the evangelists and a huge central tower devoted to Christ. Over the apse there will be yet another tower for the Virgin Mary, so this clearly is a cathedral with a difference. Gaudi's vision will blossom eventually into one of the most impressive and innovative pieces of architecture in the world. And unlike other cathedrals such as those of Cologne or Madrid there is a real sense of fun about the whole project and you can't help but raise a wondering smile as you look at it. This represents a completely new way of thinking in the often sombre annals of church architecture, worlds away from the austere gloom of most Spanish churches and ideally suited to the sunny city of Barcelona itself, and to the happy character of its inhabitants.
Gaudi is buried in the cathedral's crypt, and you can visit this and admire its eccentric vaulting and the enormous stone pillars of the central nave and transept. There's also a small museum with a car park, where the history of this extraordinary building is explained, and access the tops of two of the towers by lift for fantastic views across the city
After cheering up in Sagrada Familia, hit the road to explore the natural and cultural beauties of the Catalan countryside and coastline.