Britain is a land laden with medieval castles, especially when you head north to Scotland. Here are a few castles worth visiting, from the most recognizable to the well kept secrets: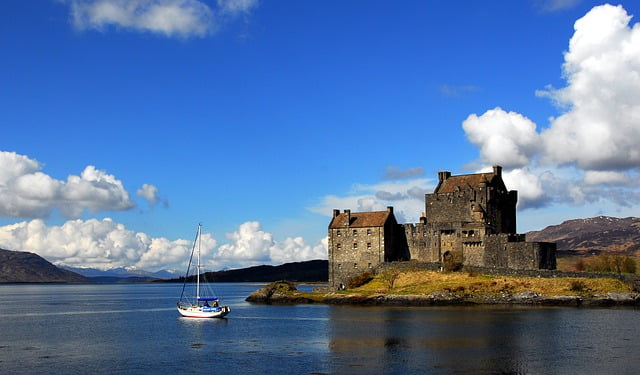 Eilean Donan Castle
Though few may know it by name, Eilean Donan Castle is one of the most recognized castles in the world. It sits on an island where three lochs meet on the west coast of Scotland. The island is connected to the mainland by a small footbridge which lies not too far from the village of Dornie. The first fortified castle was built in the mid 13th century, but four different versions have been built since.
Caerlaverock Castle

Caerlaverock Castle is a triangular castle that was first built in the 13th century. It is located in the southwest of Scotland between Annan and Dumfries. Caerlaverock Castle is surrounded by a moat, lawns and trees to shield it from view. This castle was attacked and fell several times; it even inspired a now famous poem 'The Siege of Caerlaverock'.
Castle Stalker
Castle Stalker sits on an islet on Loch Laich, and lies just off Port Appin, Argyll. This four story castle was originally built as a fort around 1320. Over the centuries, it was lost in bets, abandoned, and later sold. Today it remains under private ownership, but tours do run a few times per year, so make sure you book in advance.