Miami is not only a fun place to visit in its own right, it is also a convenient launching point for many day trips across Florida. Whether you want to drive all the way south in search of islands and beaches along the Florida Keys, or whether it's the adrenaline-charged parks of Disney you're after, there are numerous day trips you can take from Miami that cover it all. To give yourself mobility on your trip, it's best to rent a car in Miami and then you can get started exploring the Sunshine State.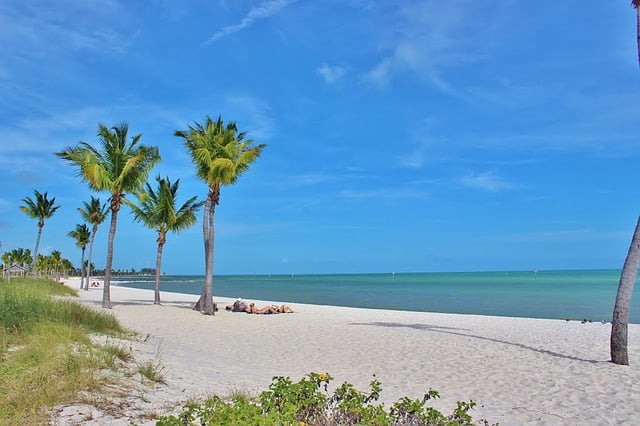 The following article will give you some ideas of where to day trip from Miami:
1) Florida Keys 
The Florida Keys are a string of tropical islands that stretch about 120 miles from the southern tip of Florida. They include such well-known destinations as Key West, the southernmost point of the continental United States. Highways connect the islands to each other, which make it great for road tripping, plus the entire place has a very relaxed atmosphere. Popular activities include sailing, scuba-diving, snorkeling and fishing.
2) Everglades National Park 
The Everglades National Park protects the southernmost 20 percent of the Everglades, which is the largest subtropical wilderness in the United States. It is a World Heritage Site that is home to such endangered species as the American crocodile, the Florida panther and the manatee. It is also home to about 800 species of plant, including 39 orchid species. Over 360 species of birds have been spotted within the park, so if you're a bird watcher or you enjoy being close to nature, this is the place for you!
3) Kennedy Space Centre 
The Kennedy Space Center, better known as the Kennedy Space Center Visitor Complex, is located on Merriitt Island. Operated by NASA, it includes bus tours of the Space Center, two IMAX theatres, the "rocket garden" which displays historic spacecraft, and the Astronauts' Hall of Fame. The Space Center also offers the Shuttle Launch Experience which simulates a ride into space.
4) Disney World 
Disney World is a famous and massive complex that boasts four theme parks: Magic Kingdom, EPCOT, Hollywood Studios, and Animal Kingdom. It also has resorts, restaurants, water parks and shops. The Magic Kingdom emphasizes fairytales and Disney characters while EPCOT showcases technology and the cultures of nearly a dozen countries. All of the parks have rides and exhibits.
5) Biscayne National Park 
Biscayne National Park is located near Miami. It preserves the Biscayne Bay and the neighboring barrier reefs. About 95 percent of the park is water. Three different species of mangroves, which are trees adapted to salt water, grow in the park. The park is home to several hundred different plant species, including some that are endangered. Popular activities within the park include snorkeling, scuba diving, camping, boating and canoeing.
So there you have it, 5 easy day trips from Miami that have it all. Whether you want to be close to nature, lounge on a beach, ride roller coasters, scuba dive, or learn about space, Florida has something for you.