If you're looking for warm azure waters and glorious beaches fit for the sun gods, then it doesn't get any better than Greece! The nice thing about the Greek islands, is that each island has it's own distinct flavour, so whether you're looking for a bit of adventure or simply want to spend your days lounging by the sea, there's a destination just for you!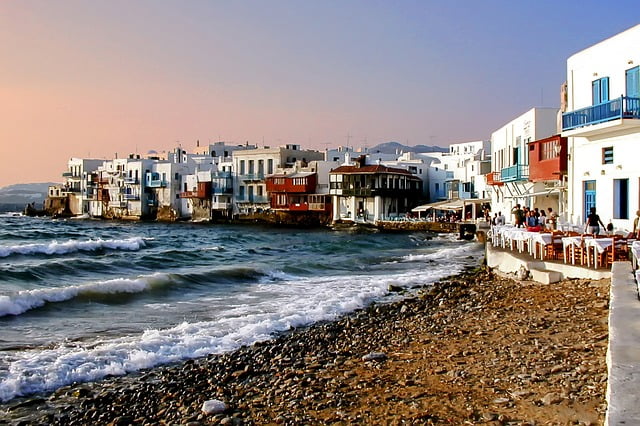 Here are a few islands to consider for your trip:
Santorini
Santorini is a must visit island when considering your holiday in Greece. It is said to have been formed by the remnants of a volcano eruption. No matter where you are on this beautiful island, the views are spectacular especially at sunset. Turquoise waters surround this crescent shaped island and villages balance atop the cliffs that climb to the sky.
Mykonos
When looking for the best nightlife, Mykonos is the destination to be. It is said to be the answer to Ibiza without all the attitude. Off summer seasons are fairly low key, but in July and August the night owls come alive. Sometimes the streets are packed with revelers to the nightlife.
Naxos
If the traditional village life is peaks your interest, then Naxos if the perfect island to visit. It is the largest island in the Cyclades and has excellent beaches. There are 46 villages to choose from, each with its own cafe or bakery and a central square where the old men gather to trade stories and sip coffee.
Paros
Paros is key for the adventurist who lives to kite board or windsurf. Winds blow constantly as is evident from the enormous turbine fans along the northern coast. In the summers the winds are a welcome to the beach crowds and even more so to the avid kiteboarders and windsurfers. These popular coastal beaches include Pounda to the west and Golden Beach to the east. If this is a new sport for you, then consider the mornings with the lighter winds. By afternoon, they can begin to really roar.
Milos
Milos has the best beaches in this island chain; the numbers and diversities are immense. Some have the lighter, white sands while some are really dark to almost black in color. Many have rocks or shells instead of sand and some are only accessible by boat. Three beaches that must no be missed are at Paliochori. They are towered over by rock formations and its colorful pebbles make it quite magnificent.
If you're thinking of  holidays in Greece 2014, then hopefully some of these island destinations will help you start the planning.
Which Greek island would you choose?