Taking a trip to Jasper, Alberta is a lovely adventure reconnecting yourself to the great outdoors. The warm friendly people who live and visit here each year are welcoming and show you a wonderful world of rich heritage, great art and heavenly scenery. There is something to do for everyone and almost anyone who has visited this lovely land has their favorites. Here are five things to do while visiting Jasper, Alberta.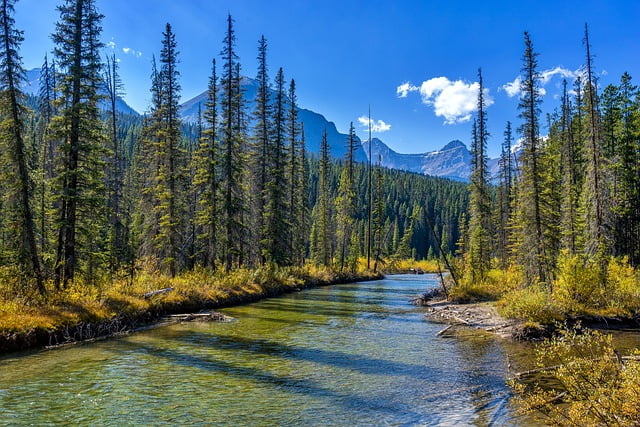 Based on visitor reviews, the number one place to visit while in Jasper, Alberta is Jasper National Park. The park itself holds several of the top places to visit while in Jasper. Jasper National Park is home to several wonderful hiking trails, streams and waterfalls.
One favorite of the area is included in Jasper National park is Maligne Canyon. It runs over six bridges over a twisty trail off where you can overlook the Maligne River and catch misty sprays. Or you can gaze into the depths of the majestic Canyon. During the wintertime they have a frozen walk guided during a tour.
You can also go diving in the clear cut waters of Patricia Lake. This offers a wonderful experience for the visitors of Jasper, Alberta. All instructors are certified, most up to the level of Rescue Diver. If you have never dived but would absolutely want to try it out? They have a diving course that would be great for you to try out first!
Have an outdoorsy man in your life? Well, this wonderful area offers some of the best fishing experiences! Fishing in the largest parks surrounded by peace and quiet, spectacular wildlife, and the low level noise not experienced in the city is heavenly. Anyone under the age of 16 may fish in the park without a permit as long as they are supervised by a holder of a permit that is older that is 16-year-old or over.
A beautiful sight held by all are those done during a Helicopter Tour. You van view some spectacular life and heavenly wonders during a helicopter tour in the park. The views will leave you speechless.
There are some things to visit too. The first one is the fifth Anniversary Jasper Pride Festival and the Jasper Dark Sky Festival. Both are full of festivities for the entire family and provide food and entertainment and a crowd of good local folks have a great time.
And for the foodie in your family, make sure to check out Jasper Brewing Company. The brew of six of the local beers there on site, and offer a variety of a menu that is sure to satisfy the pickiest of taste buds.
All-in-all there is ton of stuff to do while in Jasper, Alberta Canada. There is sure to be something that everyone will enjoy. Come visit sometime! They would love to have you.