Pembrokeshire is a popular coastal county in south-western Wales that is home to a variety of activities that range from cultural sightseeing to white water rafting. Here are the top five places to visit when touring Pembrokeshire.
Pembrokeshire Coast National Park, Bosherton
The Pembrokeshire Coast National Park is the only one of its kind in the country. Although it spans a few cities, Bosherton offers visitors the most visual value for the time spent at the national park. For example, Broad Haven South beach which is one of the most scenic beaches in the region is located a mile from Bosherton. Bordered by dramatic cliff, the spectacular coastline features pristine blue waters that lap the expansive, pearlescent beach. Bosherton lakes are also situated near the beach and offers a fresh water contrast to the beautiful coastal scene.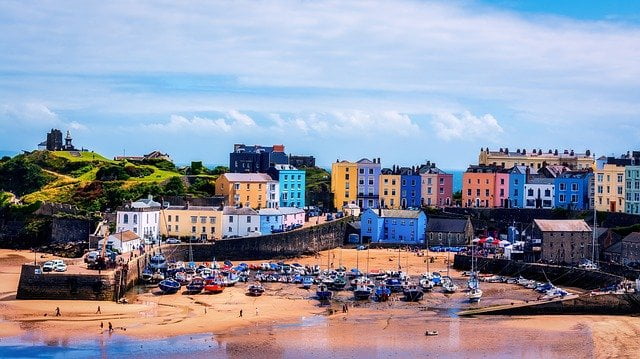 Pembroke Castle, Pembroke
Pembroke Castle in the city for which it was named is an absolute must see for European history buffs. The renovated ruins of the castle that sits on the picturesque Cleddau river is known as the birthplace of Henry VII. The stone structure features quintessential medieval turrets, fortified walls, and even an underground limestone cave that leads out to the river's broader waterway.
A Gift of Glass, Tenby
Those who are interested in learning more about the heritage skills regularly employed centuries ago will certainly love visiting A Gift of Glass. The skilled artisan gives free glass blowing demonstrations allowing one to see the historical techniques used to create glass products. Visitors who come prepared with their own product specifications can leave with a custom, glass gift or souvenir.
Bro Meigan, Boncath
Bro Meigan is the perfect place to relax and enjoy nature while in Pembrokeshire. The garden in the town of Boncath presents visitors with an abundance of vividly colored flowering plants and undisturbed wildlife. The garden grounds attract artists, authors, and photographers, and visitors may rent a quaint cottage that is nestled among this peaceful patch that overlooks Preseli Hills.
Castell Henllys, Meline
Castell Henllys which is located within the Pembrokeshire Coast National Park is the prehistoric site of an Iron Age village. The site contains a functional replica village that features Celtic round houses like the ones discovered there during archaeological explorations. The "working" village at Castell Henllys allows tourists to perform some of the daily tasks engaged in by the area's early inhabitants.