The Greek Island of Santorini is simply an enchanting place. Its beautiful sunsets and charming towns carved into the rock draw travellers from far and wide; especially couples and honeymooners looking to basque in a romantic setting.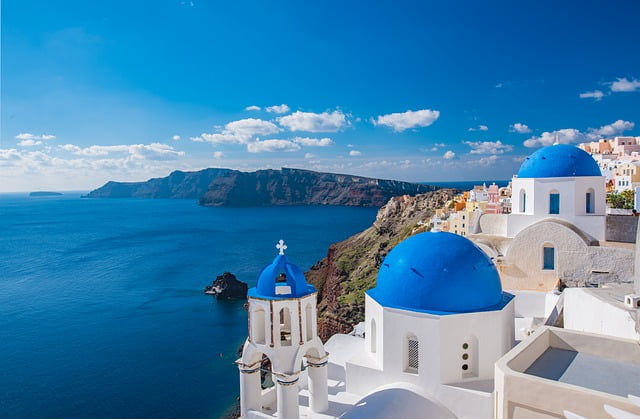 A visit to Santorini will include wandering the white streets of the painted town, cooling off in the Aegean Sea, dining on fresh seafood, and witnessing spectacular sunsets every night of the week.
Here is a brief guide to some places you cannot miss on your visit to Santorini:
Explore Fira on foot
Fira is the capital of Santorini and it is situated in a steep hillside. Getting to Fira is no easy task; once you dock in the harbour, you'll have to climb 600 steps in order to reach the town, or you could alternatively take the cable car up the steep incline.
Once you are settled in, the best thing you can do in Fira is to wander around on foot. Let your feet guide you through the maze of white washed buildings. You'll find something of interest at every turn – a church, a market, a jewellry shop, a restaurant with a stunning view.You can't go wrong in this town.
If you are relatively fit, you may even want to try hiking several kilometers from Fira to Oia. The journey is worth the effort for the views you'll be privy to.
Watch the sunset in Oia
When the sun sets in Santorini, Oia is the place to be. Travellers can revel in the sunset while sitting down on the balconies which overlook the sea. Sip cocktails, enjoy a romantic dinner, and applaud the beauty of it all.
Stay in a cave house
When you visit Santorini, you should make time to stay in a yposkafo, or a cave house. This type of structure was once built by the poorer class, however nowadays, architects have turned these humble cave homes into luxurious holiday resorts. This is a very unique experience and it's something everyone should get to try even if it's only for one night.
Go for a swim at Kamari Beach
Kamari Beach is one of the best beaches in Santorini and it is a must-visit for travellers. Kamari is a volcanic beach with black sand, and it is nice place to cool off on a hot day.
Take a trip to Emporio
Emporio is an easy day trip with the village being located in the heart of the island. The town's most visited attraction is the Kastelli – a fortification that was built by the islanders in order to protect themselves from pirate attacks. This place is steeped in history and it's quite enjoyable to discover a slice of Santorini's past.