There is a fine line between taking enough pictures to commemorate your trip and viewing your travels through a pixelated camera screen.
On the one hand, you want to solidify all your travel memories with dozens of pictures you can show to friends and family; on the other hand, travel is largely about living in the moment and experiencing the world in the flesh.
If you are struggling to find balance on this precarious tightrope — or if you just want some pointers on how to take vacation photos that your friends want to see — read on to learn more about the art of travel photography.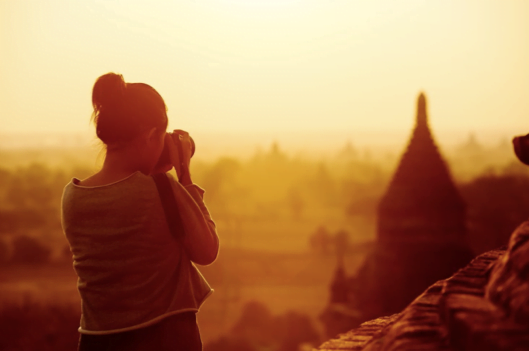 Tell a Story
It is difficult to concentrate on a bundle of travel photos when they are out of order and repetitious. Your audience will enjoy seeing and learning about your trip much more when you organize your pictures into a cohesive story. Then, your listeners will feel connected with your journey and pay closer attention to the beauty and wonder of your travels.
Of course, a story has a beginning, middle, and end, which means you must be diligent about taking pictures of seemingly insignificant details before, during, and after your trip. As important as it is to have pictures of you at the top of Mount Kilimanjaro, it is equally important to snap your face just after you book your tickets to Tanzania. More likely than not, you'll prize these candid reaction shots as much as your posed pics.
Focus on Faces
While traveling in a new and fascinating landscape, it can be tempting to take photo after photo of your surroundings in an attempt to bring home as much of the enthralling setting as possible.
You may indeed cherish the breathtaking snapshots of Antelope Canyon at mid-day — but by directing your lens to the scenery, you will be neglecting the ongoing human emotions experienced by your fellow travelers. The faces you capture with your camera will reveal much more about your experience than your panoramas: They will be sweaty, dirty, and unendingly exuberant, and the sight of them will transport you to your travels after decades have passed.
In fact, that is why we place such importance on smiling faces on this website: We understand the value of people as well as places.
Practice Night Shots
Night photography is inarguably the most difficult for any shutterbug to master, but during your travels, you will inevitably want to snap a photo of something in low or no light. Audiences absolutely hate sitting through picture after picture of black and blur, so you should make sure your night photography game is on point before you leave.
Even the best-equipped photographers won't always have access to their stash of night photography tech, so practicing without special lenses is key. Once you master a long exposure without your handy tripod, you are ready to travel.
Vary Your Technique
Everyone recognizes the standard "I'm on vacation" picture: falsely excited person stands off-center with famous landmark in the background. This format is not only uncreative — it is downright boring. Your friends and family might smile as you cycle through image after image of your son in front of Washington D.C. monuments, but inside they will be dying for something different.
During your trip, you should strive to capture scenes and angles that most people don't get a chance to view. Instead of another image of the Lincoln Memorial, consider taking photos of the crowds of visiting Americans staring up at their nation's greatest leader. By photographing moments different from other travelers, you will better represent your trip and you will make a much more intriguing album.
Swap Photographers
Whenever there is a camera, there is usually a single person who wields it. During family holidays, it's probably your dad; during travels, it might be you. Even if you are the most skilled photographer in the group, you shouldn't always be the one trapped behind the lens. If you are left out of every frame, you might forget you were even there.
An easy solution is to give everyone in your group a camera, which ensures everyone will appear in at least one picture. The equipment doesn't have to be big or expensive; kids are just as happy with point-and-shoot disposables. More likely than not, your different reels with tell vastly different stories — which makes for a fascinating presentation when you come home.
Take It Easy
Taking pictures should be on your mind throughout your trip, from planning before to recuperating after, but that doesn't mean you should see your travels entirely through a camera's lens. You should constantly remind yourself that your pictures will be reminders of your travel memories, rather than the sum of the memories themselves. You should be fully present during your trip — and then your travel pictures will carry true meaning and beauty.