Germany is rich with history. Hamburg, Germany is no exception. If you are lucky enough to visit Hamburg, following is a list of 5 things to do while you are there.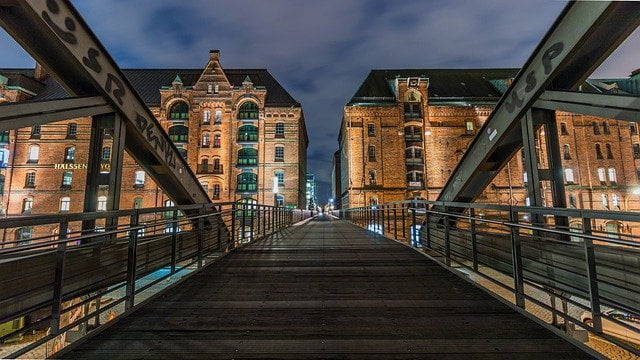 First, make sure you see Hamburg Harbor. This site is what gives Hamburg the name "The Gateway to the World." Enjoy this historic area from different vantages: boat tours are a popular activity, dining at a restaurant overlooking the harbor is breathtaking or take a leisurely walk around the harbor. Not only is it the third largest port in the world, but it is active as well. Every Sunday evening, the Hamburg Fish Market is held along the port. You can buy just about anything at this shopping frenzy.
Second, a trip to Europe is incomplete without visiting one of the most famous churches in Northern Germany. St. Michaelis, also known as "Michel", was built in the mid 1600's. This church is as ornate as they come, and will seat up to 3,000 guests.
Third, if shopping is on your agenda, Alster Arkaden is a district you will not want to miss. Amidst the Venetian designed architecture are charming shops and boutiques.
Fourth, Panten un Blomen is a magnificent Botanical Garden that displays Hamburg's interpretation of "going green." You will see carefully landscaped gardens that highlight flowers and greenery from this area of the country.
Last, Hafencity will show tourists the newest architecture in Germany. Thousands of rental apartments are in the process of being built. They will give residents in this district a modern place to live. The project is so big that it is not projected to be completed until 2025.
While you are in Hamburg, Germany, there are many activities for you to enjoy. Sight-seeing, shopping, touring and eating are all things that you can partake in. Have fun in Hamburg, Germany!