Rijeka, located on the Gulf of Kvarner in the Adriatic, is Croatia's major port and transportation center. Many tourists simply use the port city as a ferry embarkation point, passing through it to other destinations like Dubrovnik. Rijeka has been coveted by a succession of empires since the ancient Romans, each period leaving its mark on the architectural style and monuments of the city, and it is well worth to pause and look around.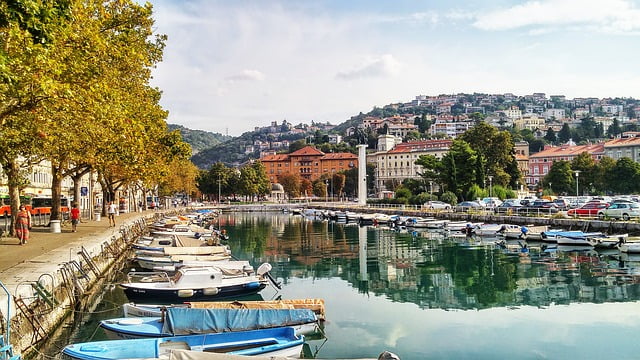 Trsat Castle is a restored 13th-century hill-top fortress, overlooking Rijeka with a sweeping view of the gulf. There is direct bus service to the fortress from Rijeka, but the traditional and more interesting way to get there is to climb the 538 stairs, following the path of generations of pilgrims. The nearby Frankopan Square and Trsat Park become major cultural and recreational attractions during summer. There are cafes where tourists can mingle with locals and browse the art galleries and enjoy theatrical productions and concerts.
The Baroque quarter in the city center is from the Habsburg period that followed the Frankopan rule. The 17th-cenury Clock Tower that still strikes the hour is Rijeka's most beloved structure, having survived the devastating earthquake of 1750.
The Governor's Palace, the former administrative center of the province, reflects a grand 19th-century style, when Rijeka was called Fiume and was under Hungarian control. The Governor's Palace is now the home of the Naval and Historical Museum.
From there heading northeast, the nearby Natural History Museum with its newly upgraded multi-media displays and the adjacent botanical gardens and aquarium will engage families with youngsters and teenagers.
The Korzo, running parallel with the port, is the city's pedestrian promenade. It is a pleasant place for walking and stopping by at one of the many cafes during the day. After sunset, the Korzo and the port area offer a surprisingly lively nightlife for a modest-sized city of 129,000.