Here's a list of some of the best places to enjoy the London skyline. Just be sure to go on a day when there is no fog: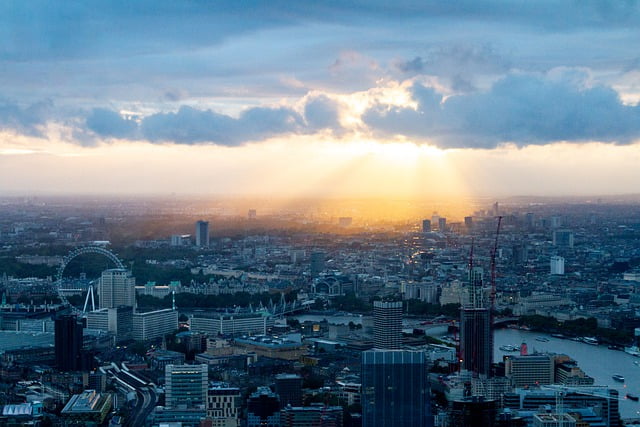 The Shard
The Shard is a recent addition to London's skyline and promises to become one of the city's iconic monuments. It was opened in the summer of 2012 and at 309 meters, it is now the tallest completed building in all of Western Europe. The building has an open-air viewing deck on the 72nd floor, and reveals a 360 degree view of the city. If you are feeling peckish, you can also enjoy the view from one of the many restaurants located inside this irregular shaped pyramid.
St. Paul's Cathedral
Climbing to the dome of St. Paul's cathedral is not easy feat, and it is certainly not for the faint-hearted. You will have to climb up hundreds of steps, go through narrow passages barely wide enough for one person, and then once you think you've finally reached the top, you'll have to make your way up rickety spiral staircases while trying not to look down. It is scary and can be unnerving, but once you emerge on the dome's exterior, you'll be treated to a grand view of London and the River Thames below.
Tower 42
Once known as the National Westminster Tower, Tower 42 is the second tallest skyscraper in the city of London. The viewing deck is located on the 42nd floor. This building is also home to Vertigo 42, a champagne and cocktail bar which boasts a pricey selection of drinks to match its lofty clientele. From here you'll be able to enjoy a beautiful view of the Gherkin and the rest of the city. This view is best enjoyed in the evening once the sun has set and the city is aglow with sparkling lights as far as the eye can see.