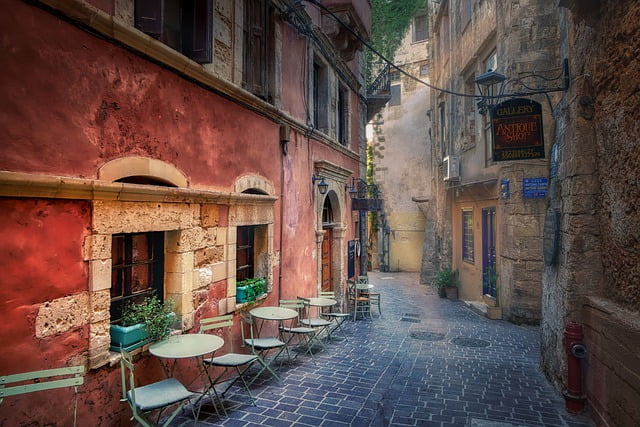 June is one of the best times to visit Greece and its many beautiful islands. The weather is perfect for swimming, and most of the islands and attractions will be less crowded. With its stunning beaches, delicious cuisines, friendly people, and great history and culture, there are so many reasons why Greece is one of the world's most popular holiday destinations.
If you're thinking of visiting Greece in June but not sure where to go, here are some of the best places to consider.
Crete
Crete is Greece's largest island and has excellent weather almost all year round. Because of that, it has a longer running tourist season compared to the other islands. Visiting Crete in June means you'll enjoy fantastic weather, but be prepared to share the beaches, tavernas, and famous attractions with other tourists.
Expect to spend most of your time at the beach when visiting Crete. But aside from the beach, the city has plenty to offer in terms of historical and cultural attractions. Its beautiful streets are lined with centuries-old structures featuring Venetian and Ottoman architectures. Crete is also home to a variety of restaurants. In fact, the island is famous for its local cuisines, so make sure you sample as many local delicacies as you can. Crete is also renowned for its vibrant nightlife, thanks to its wide variety of bars and nightclubs.
Whether you're travelling with family or friends, stay at one of the beautiful Crete villas along the northern coast of Heraklion or Chania. For those who prefer to explore the great outdoors, the best places to visit are Rethymnon or Agios Nikolaos, home to many beautiful beaches.
Mykonos
The beautiful island of Mykonos basks in high temperatures in June, which is the height of the summer season. Between swimming at the beach, you can cool off at one of the elegant bars and restaurants lining the Little Venice. But if you're here to party, then you are guaranteed to have a blast! Dubbed the party island, Mykonos has some of Greece's best bars and clubs.

The picturesque harbour of Mykonos is a fun place to stroll around, especially at night. It's home to many cafes and restaurants, most of them open to the stunning views of the sea. From here, consider taking a boat trip to the nearby island of Delos and explore its fascinating archaeological sites. It's a UNESCO World Heritage Site, believed to be the birthplace of Artemis and Apollo.
Even if you don't leave Mykonos, you will have many interesting sights to explore. Visit the windmills in Chora, one of the most recognized landmarks of the island. There's also an abundance of old churches on the island, such as the Agios Nikolaos in Chora and the Monastery of Panagia Tourliani in Ano Mera.
Athens
Athens enjoys pleasant weather in June, which means you can spend plenty of time exploring its ancient sights and strolling around its lovely streets. Steeped in history and culture and home to fascinating museums and ancient ruins, Athens is certainly worth a visit on your trip to Greece in June.
You will never run out of things to do in Athens, whether that's wandering through the winding streets of Plaka or admiring the magnificent Temple of Zeus. Some visitors will also take a day trip to Delphi, home to the oracle and the classical Greek world. If you only have time to visit one landmark in Athens, make it Acropolis. This ancient citadel is thousands of years old and home to incredibly fascinating ruins, such as the Parthenon and Theatre of Dionysus.
The food scene of Athens is also worth discovering. Here, you can sample fresh Greek salads, succulent souvlaki, and moussaka, and all the other famous Greek cuisines. Head to Tudor Hall and treat yourself to a romantic dinner with views opening to the Acropolis and Parthenon.
Santorini
As one of the most famous islands in Greece, Santorini should be on top of your list when visiting Greece in June. It's famous for its stunning sunsets, volcanic beaches, beautiful, whitewashed villages, and picturesque cobblestone streets.

If you're here for the famous sunset view, make your way to the Caldera in Oia. Just bear in mind that the area can get a bit busy, especially in June, one of the peak seasons. Come as early as you can and look for the perfect spot where you can enjoy uninterrupted views of the island. Another ideal place to enjoy the famous golden hour of Santorini is overlooking the blue domes of the beautiful village of Oia. Since Santorini was formed as a result of volcanic activity thousands of years ago, there are many rock and mineral formations all over the island. It's also home to several unique black sand beaches, where you can relax under palm shades or swim in its crystal-clear waters.
Fira, the capital city of Santorini, is another beautiful village that you should explore while on the island. It's also home to some famous attractions, such as the Museum of Prehistoric Thira, which displays items from the Bronze Age. The whitewashed church of Orthodox Metropolitan Cathedral is also worth checking out.
Paros
Paros is one of the best places to visit in Greece in June. Thanks to its central location, the island is easily accessible from most of the famous islands within the Cyclades, making it a great destination when booking luxury tour packages in Greece during the month of June.

Parikia is the first city you'll most likely visit in Paros as it's home to the island's main port. Here, you'll find many restaurants and cafes and a handful of small shops selling souvenirs of all kinds. The chic seaside resort of Naoussa is also fun to stroll with, home to luxury boutiques and restaurants. It also has many beautiful beaches where you can take a dip in between exploring the island.
Even though Paros is more famous for its beaches, the island is also home to a beautiful park, Paros Park. It's an 80-hectare park located north of the island and has plenty of scenic hiking trails. After your hike, head to the nearby Monastiri Beach, where you can relax and take a dip in its beautiful shallow waters.