Prague is one of the best cities in Europe to visit: It's relatively inexpensive, the architecture is stunning, and it's easy to see in just three days or so. Another benefit is that it's connected to many other Eastern European hot spots (like Budapest) via train, making it a great place to add to a multi-city itinerary. With all of this in mind, let's look at some of the very best things to squeeze into a long weekend in this wonderful, one-of-a-kind city.
Visit Some Of The Historical Landmarks
Prague is an old city with tons of history, so naturally it is home to some impressive landmarks. These are often swarming with tourists, but still worth a quick visit for a good photo opportunity. Sometimes, the best time to see some of the most famous landmarks, like the Charles Bridge and Old Town Square, is actually at night, when there are fewer people around and twinkling lights will highlight some of the most stunning parts of the city. Let yourself wander through the winding cobblestone streets of Old Town, but bring a friend with you – Prague is a fairly safe city, but it's always better to travel in groups, especially at night. Meanwhile, evening sightseeing and wandering aside, you also can't skip a trip to the Prague Castle, even though it's outside the city center. It's easily accessible by public transport, and its vast grounds make for excellent exploration.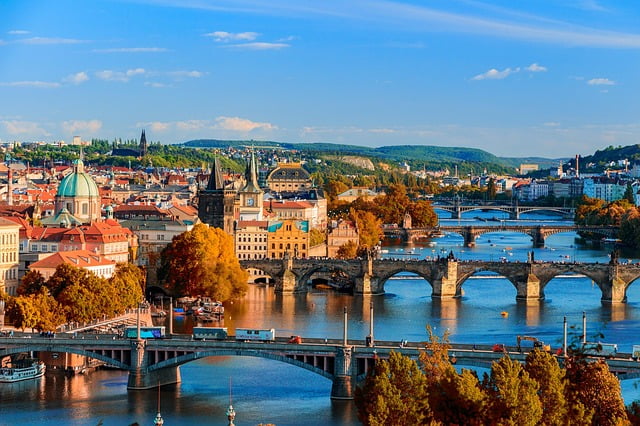 Eat At One Of The Many Vegetarian Restaurants
Prague has a reputation for being incredibly vegan- and vegetarian-friendly, especially compared to other European cities where meat can be very central to local cuisine. Even if you eat meat regularly, some of the popular vegetarian restaurants in Prague can be incredible to sample. One of the best is a place called Etnosvět. For gourmet vegetarian food, which is usually quite overpriced, the food isn't too expensive – and the menu includes cuisines from all over the world. This is just one example to give you something specific to look for, but if it sounds interesting, it's located in New Town.
Spend A Night Out Czech Style
The nightlife in Prague is incredibly lively and has options for most anyone. Among the most common venues are underground bars, such as U Sudu Wine Bar (where there's far more than wine), where you can typically enjoy a sort of wandering experience down stones steps from one bar to the next. If being several floors beneath the ground makes you a little uncomfortable, however, you can easily enjoy the height of the city's five-floor dance club, Karlovy Lazne.
Drink (Or Take A Bath In!) Local Czech Beer
When people say the beer is cheaper than water in Prague, they aren't kidding. The reason for this is that like in most European cities, you have to purchase bottled water at any restaurant you go to, instead of being offered free tap water (like you are in the U.S.). Some places charge quite a lot for this bottled water, especially if its lightly carbonated (as is a popular option), to the point that beer can be the cheapest thing to drink on the menu! That's not exactly a problem in a place like Prague though, where local brews are terrific. In addition to sampling what's on tap at any given bar, you can go on a "beer tour" on which a guide will take you through some local spots and teach you a bit about the beer you sample. And if you really want to embrace the Czech beer scene, you can take advantage of the fact that some locals believe that the drink has healing properties! There are "beer spas" all over the city, which basically involve soaking in hot tubs filled with
beer hops.
With these activities and idea in mind, you should be off to a great start for a few memorable days in Prague.