The beauty of the country is that each state is essentially autonomous and can present a truly different idea of America than any other. Of the 50 States of the Union, there are 5 that this author can think to urge friends and readers to visit above all. These 5 states, if visited solely, can give a broad experience of what America is.
California
California is by far one of the most diverse of the 50. As is the case anywhere else, you will find a marked difference between city life and rural life, and California has everything in between to boot. Cosmopolitan Los Angeles and San Diego bask in year-long "So-Cal" sun, while in the north the Redwoods dominate the land and give shade to hippy retreats located not far from beautiful San Francisco and its Golden Gate Bridge. "Cali" is also known for the gorgeous string of Sierra Nevada Mountains, and between Yosemite National Park and Death Valley, all the natural bases are covered.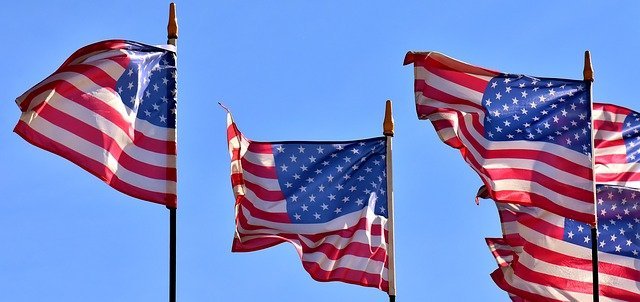 Washington DC
Although not a state, the District of Columbia deserves a place on this list because just a few days in the nation's capital will suffice to answer any historical, political or miscellaneous questions a traveler has about America. They are many fantastic places to stay in this district and once checked-in there are innumerable museums, monuments and active events to see in DC. 
Nevada
Right next to California is the infamous state of Nevada. Known for gambling, Indian Reservations and sand, Nevada is a 360 turn from its neighbors in terms of local culture. Las Vegas is the undeniable king of party and casino fun, while Reno in the north is a growing center of the same. For those travelers looking for something respective of modern times and the counter-culture, then get researching Burning Man at Black Rock City.
New York
The Big Apple is one of the most cosmopolitan cities on the globe. Mixed in with its diversity is its capacity for toughness. As Kurt Vonnegut says; go there, but leave before it makes you hard-mannered. New York has anything. You name it, it has it. From the shows of Broadway to the rumblings of an incredible metro system; from the heights of the country's tallest city to the underbelly of an ethnically stimulating atmosphere, New York is an anyman's town.
Louisiana
No broad understanding of America is complete without visiting the Deep South. Ever since the end of America's Civil War, the cultural divide between north and south has run deep. It's the accent, the tradition, the hospitality, and maybe even the temperature that sets the south so far apart from the north. Louisiana presents travelers with an eclectic mix of history and modern circumstance. Try to visit in February to check out New Orleans' Mardi Gras and get a belly full of good ole country-fried cookin'.
5 of 50 is a tight list, but we're confident that this concise selection of some of the United States most attractive and intriguing states will serve the traveler well. For those with more time, and money, the outliers of Alaska and Hawaii present different experiences altogether. Then there are still left great places like Chicago, Houston, Southern Florida, Oregon and its microbreweries, and the thousands of untenable small town American dreams that really tie history and modernity together.