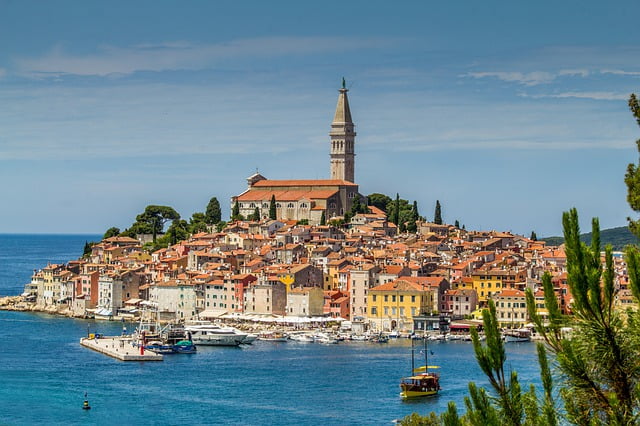 May generally brings warm weather in Croatia. It's the start of the tourist season, and the islands and cities will start to get crowded. Despite this, May is the best time to visit the country. The weather is excellent, as it's not scorching hot, allowing you to comfortably explore the scenic sights and take up fun activities outdoors. But given the many beautiful places to visit in Croatia, it can be hard to decide where to go.
To help you with this, here are some of the best destinations to visit in Croatia in May.
Krka National Park
May is the perfect time to explore the great outdoors of Croatia. When it comes to this, the best place would be in Krka National Park, which lies along the Krka River and is home to a series of waterfalls. Although this park is not as big as the more popular Plitvice, it does have plenty of things to offer, especially for travellers who love to explore the outdoors.

Krka National Park is a short, day trip from either Zadar or Split. It's only an hour's drive from these cities, and many tour buses can take you to the park for a day trip. The Krka National Park is home to seven waterfalls, some of which you can swim in. However, the swimming months fall between June and September, so swimming is not possible if you come here in May.
But the best thing about visiting in May is that the park entrance fee is only $15, which is half of what you will pay if you visit during the peak months. What's more, there are not too many tourists during this time of the year, allowing you to explore the park with fewer distractions.
Korcula
As one of the largest islands in Croatia, Korcula is about 20 miles long and is relatively narrow, about 4 to 5 miles wide on average. It's located in the southwest of Split and is famous for its dense forests. Offering plenty of things to see and do, Korcula is one of the best places to visit in Croatia in May.

At the northeastern tip of Korcula, you will find the Old Town, home to medieval churches and palaces, as well as Roman ruins. Dubbed the "Little Dubrovnik", it's a fun place to explore, lined with bars, restaurants, and cosy cafes. The Old Town's most interesting things to see are the Revelin Tower, Lands Gate, St Mark's Cathedral, and the Sea Gate. The Old Town is also a great place to base yourself if you want to be in the heart of Korcula while also close to the ports.
Another beautiful place to visit in Korcula is the Vela Luka, which is somewhat quieter than the Old Town. Being located at the tip of the island, which opens to the panoramic views of the sea, it's one of the sunniest spots in the country.
Istria
Istria is the largest peninsula in the Adriatic and one of Croatia's best places to visit in May. Home to some of the most beautiful beaches in Croatia, the island is an excellent destination for swimming and sunbathing. There are also plenty of holiday villas in the Istria region, so it's ideal to base yourself here if you want to explore the islands along the Adriatic coast.

Istria's biggest draw is its beautiful beaches. Beach Njive in Premantura is a lovely bay with calm waters safe enough for swimming, making it a great destination for families with kids. Istria is also home to some beautiful villages that are fun to explore. In the north of the island, you will find Novigrad, a cute little village home to beautiful beaches and some historical sites, such as the St. Pelagio and St. Maxim's Parish Church bell tower.
Groznjan, known as the village of artists, is another beautiful village in Istria that you should visit. It's a former 14th-century Venetian fortress turned into a Medieval town with small alleys and cobblestone streets.
Kvarner
Kvarner is a beautiful Croatian region that has been a popular summer destination since early times. Dominated by the Kvarner Bay, the region is breathtakingly beautiful and home to many interesting attractions. It lies along the northern Adriatic Sea, connecting the peninsula of Istria with Dalmatia.

Some of the most popular attractions along the Kvarner Bay are the charming coastal towns of Rijeka and Senj. The area is also home to ancient fortresses nestled on top of the hills. On top of these, the landscape in Kvarner is truly spectacular, with many natural parks such as Risnjak, Ucka, and North Velebit.
To enjoy a quiet holiday in Kvarner Bay, head to Jadranovo, a quiet fishing village. With its secluded beaches and tranquil bays, it's the perfect place for those looking to relax while enjoying the beautiful natural landscapes.
Zagreb
Zagreb is a sophisticated city in Croatia famous for its culture, food, and festivals. It's big enough to charm visitors with its wealth of attractions but small enough to explore on foot. You will find St Mark's Square in the Upper Town, dominated by the St Mark Church, renowned for its distinctive tiled roof. Meanwhile, the Lower Town is home to the impressive Hapsburg building and beautiful garden squares.

The best thing you can do in Zagreb in May is to join food festivals. In fact, Zagreb is one of the best destinations for foodies in Croatia. While in Zagreb, taking luxury Croatia travel options such as small ship cruises to Dubrovnik is highly recommended. The Zagreb to Dubrovnik Cruise-Tour will take you to explore some of Croatia's most famous attractions, such as the Plitvice National Park, and pass along Split, Hvar, Korcula, and other destinations before reaching Dubrovnik.
Zagreb is also dotted with museums and many cultural sights, some of which are bizarre. One of these is the Museum of Broken Relationships, which houses a collection of things left behind by individuals after their relationships have ended. Another unique museum in Zagreb is the Museum of Naive Art, which displays interesting work from artists described as "untrained masters".