Tourists visiting Brunei are blown away by this small but unique country in SE Asia that is peaceful, orderly, and very rich in cultural heritage. There is nothing that can be compared with the beauty of historical edifices, and also the superb museums across the country. Bandar Seri Begawan the capital is one place that is blessed to have many attraction sites that tourists love to visit. Things to do in Bandar Seri Begawan, Brunei must include a visit to:
Istana Nurul Palace
This palace designed by Leandro Locsin has superb architectural features, home to the sultan, and is the place where government business is transacted. The size of the palace is notably bigger than other royal residences in the world.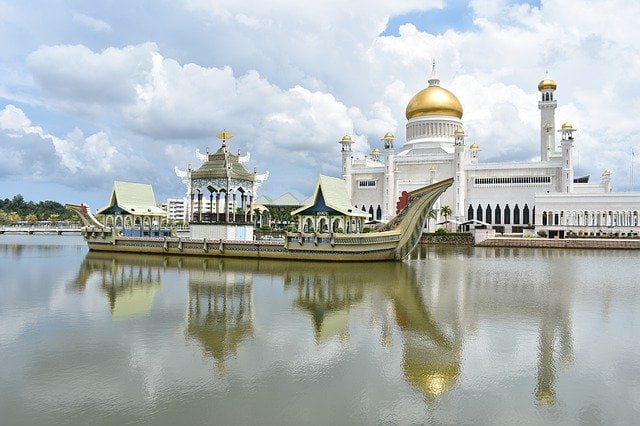 Omar Ali Mosque
Omar Ali Mosque is the most visited tourist attraction in the country. The golden dome is one feature of the mosque that stands out. The architectural designs are unique blending classical Islam and contemporary styles. Visitors are allowed to visit every day in exception of Thursdays and Fridays. The structure is iconic in this Islam dominated country.
Kampong Ayer
Kampong Ayer is a pearl in Bandar Seri Begawan that you should visit when you set foot in Brunei. These water villages are an amazing heritage depicting the true culture of Brunei. The inhabitants are always more than willing to give you more information about their ways of life.
Brunei History Center
Brunei History Center is where you will have the opportunity to learn in detail about the history and culture of the people. It is strategically located on the main street of the city making accessibility easier. In addition, it avails the best chance to look at the works of great scholars that are archived here.
Brunei Museum
Brunei Museum is full of artifacts that will really interest you; it also showcases the dynamics of Islamic art. It contains a gallery whose main theme is oil and gas. It is open to visitors all days of the week except Sundays. If you want to superbly designed furniture and handcraft, then visit Bandar Seri Begawan.